Shopping in Venice
Summer is here and what better way to celebrate it – SHOPPING! In addition to enjoying the sea, sun, vacation,we were all eagerly awaiting the arrival of the season's fashionable sales. In Venice and the whole region of Veneto, sales promotions and huge discounts will start on the first Saturday of July 4, 2015 and end on August 31, 2015.
Shopping malls, downtown shops, boutique shops and outlets will be  by the scouted by citizens and tourists alike looking for the hottest trends and fashions at awesomely low prices. That includes name brand items and designers with sales as low as 70% off!!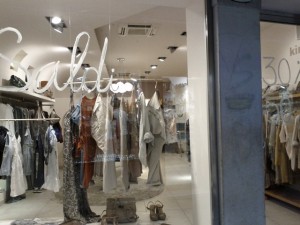 Aside from the distinct showcase graffiti, look for the words "Saldi" or "Sconto" which mean, "sales" and "discount", respectively.
According to Italian law, advertising relating to discounts must first be presented in such a way as not to be misleading to the consumer, and must contain the indication of the period and the duration of the sale, as well as the exact type of sale ("sale late-season").
Remember to still go bargain hunting, because just around the corner, there can be a better deal…just be sure to remember your way back to the original store! That's the beauty of real bargain hunting in Venice!
Finally, you can always enjoy a good opera concert or classical music concert on these romantic summer evenings after taking in the city by day.
Shop til you drop!
Buone Spese!