See what past Venice Rookies had to say…
Venice Travel Book Reviews
For one, I loved that it didn't have tiny maps, but instead, really clear walking instructions. Second, the layout and flow of the book was excellent and easy-to-follow. Third, it didn't have the cheesy tourist pictures inside, but capitvating ones displaying the real essence of Venice. Brilliant guide.
It was my first time in Europe; and my first stop was in Venice. I started reading the guide on the flight over and learned a tremendous amount in a short period of time.With only three days to take on the city, I took my iPad everywhere so I could follow the DIY walking tours in the book. The legends and interesting facts for St. Mark's and Rialto were fun to learn about, and it felt like an exciting treasure hunt. The walking instructions were dead on. First impressions are everything and thanks to this guide I was able to enjoy my holiday without any hassles.
– Kerry, NoVA
When I first heard about the savings, I didn't believe it, but I actually saved over $300 just from the hotel and group gondola ride deals explained in the guide book. The savings ended up going towards delicious dinners and mask-shopping! Thanks Venice for Rookies!
– Seema, San Francisco
A must for student travelers or anyone visiting Venice on a budget!! It gives you all the information you need to know. It's a fun read and actually quite humorous. The last chapters are like having a cheat sheet on hand. Comes in handy when you don't speak the language.
-Matt, USA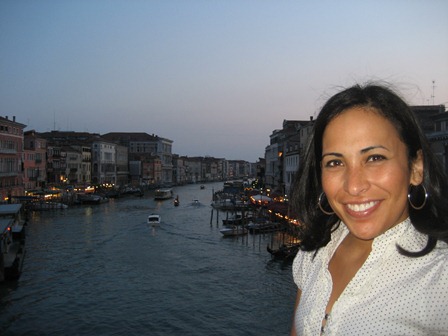 You can tell this guide is written by a real resident and not just a hired travel writer. That makes a huge difference in the quality of meal and lodging recommendations for Venice. After I ventured into some not-so-great restaurants on my own, I decided to stick to the mentions in the book and learned things such as not to eat "fresh fish" on a Mondays since fishermen don't go out on Sundays. Amazing how helpful tidbits like these go a long way. Also, the ice cream shop listed was unforgettable – celery flavor!
                     – Carolina, Maryland
Venice for Rookies provided a perfect synopsis of the most interesting information and noteworthy details regarding the history and various landmarks of Venice. The amount of information available out there is so overwhelming, and this guidebook was exactly what I needed to quickly find and learn about the key elements of the city.
-Bridget, NYC
 I'm also a foodie, and despite the horror stories other Venice tourists warned me about (being over-charged for frozen pizza, etc.) I didn't have a bad meal once! The book had great authentic meal recommendations for every listing I went to. The breakdown of the area and quick titles for each option helped narrow down my choices in a matter of seconds. This guide rocks when it comes to the restaurant selection! I heart VFR! 🙂
– Jen, Washington, D.C.
This guide had everything I needed – great bar rec's, excellent wine details for the region, and just the right amount of background info. The explanation of all the tourist passes saved me time,  money, and got me to where I needed to be in minutes! Hints on how to jump the line were much appreciated. I wish there was a Travel for Rookies guide for Rome!
-Hilary, USA
Finally a guide that takes you past the just the main tourist stops! The hints and savings tips were extremely helpful! Thanks to Venice for Rookies, I didn't get ripped off, got to know the "real" Venice, and learned curious fun facts about the city. I saw a whole new side of Venice even though I had already been once years ago. I am so glad I got to taste the black squid ink pasta this time around. I would have totally missed out on it, if not for this guide. Thanks!!
-Eks, NYC