While there has been a lot of commotion from the Costa Concordia accident on January 13, 2012 and increasing vocal concerns of preservation groups and environmentalists, officials in Venice have put forward a plan to reroute cruise ships away from the city center by dredging a new channel from the Lagoon of Venice directly into the busy Marittima passenger terminal.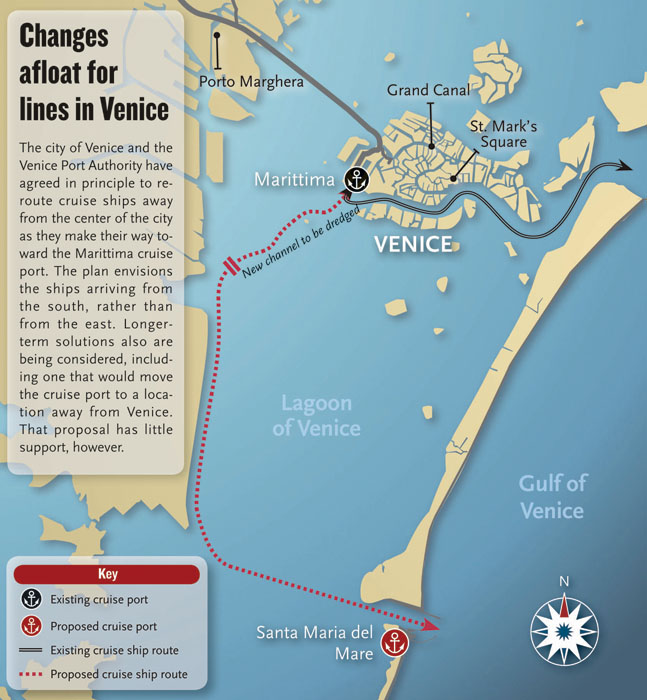 Such a move would mean that cruise passengers no longer would sail into or out of the San Marco Basin or the scenic Giudecca Canal, which are both within shouting distance of venerable landmarks such as the Piazza San Marco and St. Mark's Basilica.
An agreement was reached in December between the Venice Port Authority and the city of Venice to study the creation of the channel, which could be completed within 18 months. The proposal gained a new urgency following the recent cruise accident.
Venice is a Unesco World Heritage Site, and the group called on the Italian government to "act quickly to develop alternative plans for maritime traffic" around Venice.
In a letter to the Italian environment minister, Unesco assistant director-general for culture Francesco Bandarin wrote, "The tragic accident [involving the Concordia] reinforces long-standing concerns over the risk that large cruise liners pose to sites inscribed on [our] World Heritage list, particularly the Venetian Lagoon and the Basin of San Marco."
Given the fragile structure of the medieval city, Unesco warned, the ships "cause waves that erode the foundations of buildings."
Cruise companies did not respond to queries requesting their views on the proposed route change.
Cruise ships currently enter the Lagoon of Venice from the northeast and travel west through the San Marco Basin and the Giudecca Canal to the sprawling Marittima cruise port, in the far southwest corner of the city.
More than 20 major cruise lines visit the city each year. In 2011, cruise ships brought 1.7 million cruise passengers into Venice.
What are your thoughts on changing the Venice docking sites?