Keeping it short and sweet.
Wanna know my secret to finding inexpensive hotel stays for friends who come to visit me? Well, there is usually a great deal on the Venetian Groupon and you might have to use the Google translator for this, but it's worth it.
I always check out Groupon in the city I'm going to visit a few weeks before departing cause you never know what hotel deals or packages you might find.
From the icon above or pic below, click on the arrow next to your city and choose "Other Countries" and then "Italy", and finally "Venezia".
Then click on where I circled the Italian banner, because that will take you to the latest hotel and vacation deals in Venice!!
Another way, is to simply go to "Other Countries", select "Italy", and then "Viaggi" (meaning "trips") and see the latest offers.
This deal below is for 169 euros for 2 people for 2 nights right behind St. Mark's Square! That's valid till March 15, 2012 (with some blackout dates). If you want to save more then check out the Rookie Savings Tips in the Venice for Rookies guide.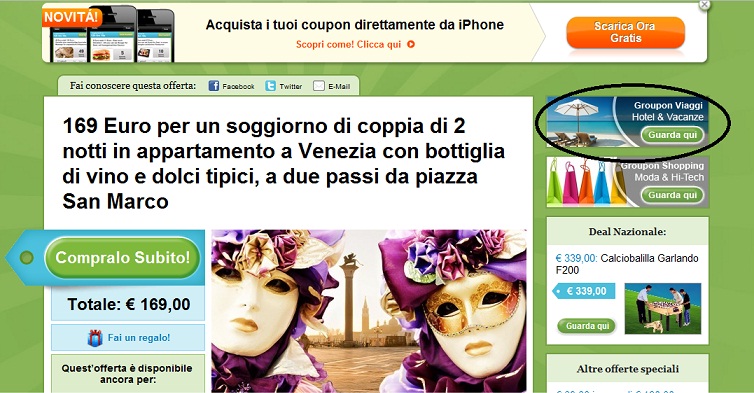 Buon viaggio!!