Sailing in Venice
The Americas Cup World Series Crews have been invited to compete in a opportunity to compete for €50,000 in prize money in the City of Venice Trophy on April 18-21, 2013. The invitational regatta, organized and announced at the beginning of May by the yacht club, Venice Compagnia della Vela, consists of five, 30-minute fleet races just outside Lido Island. This kicks off the week long of activiates and racing in this unmatched backdrop that the Americas Cup will visit twice.
The highlight will be Sunday's long fleet race, which starts outside Lido Island and finishes just off St. Marks Square. The first team to finish at St. Marks Square will receive the City of Venice Trophy presented by Arzanà Navi as well as a cash prize of €30,000. The remaining €20,000 in prize money is distributed to the top three crews from the five 30-minute fleet races.
As you can imagine booking a hotel in Venice is crucial for these days, so get on it and enjoy the races!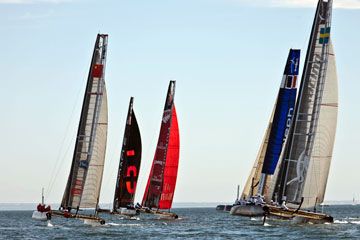 Visit the Americas Cup official site to get more information on the Venice sailing races in 2013.